Goodbye Tony :-(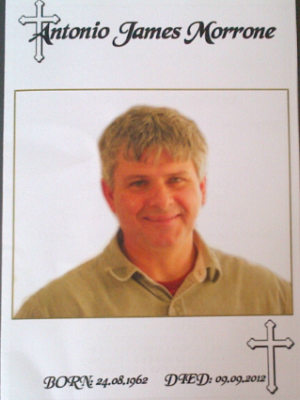 Today I went to the funeral service of Antonio James Morrone.  It was a sad day for the South African food and laboratory industry.   As opposed to myself I have never heard this man say anything bad about someone else, even when listening to my rants!  He was always full of concern and care for everyone else's problems and glad to share in their joy.  You could see the glint in his eyes in sharing his joy with everyone he met.
My thoughts are with his brother Michael and the rest of his family.  You were all blessed with him, may you still be with him looking after you from above.
Tony we will see each other again one day – if we are too far to shake hands – wave at me and smile.
http://www.tridentinstrumentation.co.za/